It is fun to go for camping along with kids. They would love going outdoors. They like to spend their time away from home. They can explore the outside world during their camping trip. They get to learn new things along with having lot of fun. They learn adventure and self control during such trips. They see the nature and its beauty. It is good idea to take them for the hiking and camping trip along with their backpacks during their vacation time. The article will discuss different things to be considered while going for camping along kids.
Do the practice – It is necessary to do the rehearsal before you go on the camping trip. Encourage your kids to go for walk near your home everyday make them practice for hiking along with the extended walk sessions that can go for two hours. Make them practice along with the hiking footwear. Excite them by sharing your own hiking stories. Give them their backpack that should be light in weight initially. Gradually increase the weight in their backpacks during their practice. They will love to do this exercise as they will look forward for their adventurous trip that their parents have already experienced.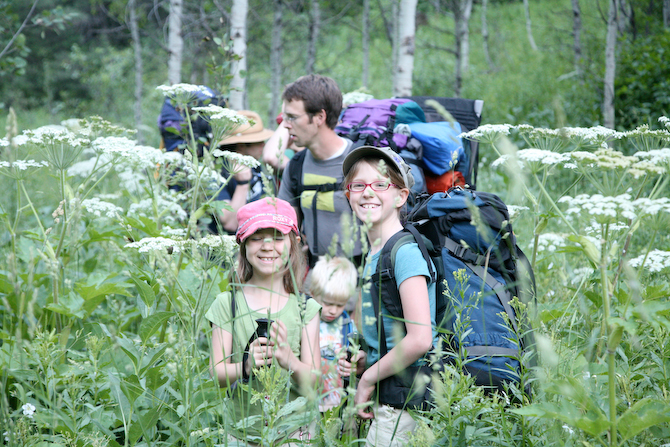 Start at early age – The early the better is the mantra. Start the camping with kids at their early age. This will make them used to. They would look forward to their vacation time. The age does matter. If the kid is less than 6 then they would start slow but would pick the camping fast. You would have to be careful taking the small kids but that would encourage them for the hiking.
While taking the small kids for the camping, they must be explained that this would be hiking. They should be walking all the time and parents would not carry them. They should be provided rest time at regular intervals. The walking distance covered may be less due to more time spent in breaks. Parents should do this to motivate their kids for hiking. It will add to their learning process.
Copy the hiking session at home. Place the tent in your backyard or inside home. Make kids sleep inside their sleeping bags that they would use during camping. This will make them feel the same as they would feel during camping. They will be comfortable when it really happens. Simulate the camping act.
Keep observing the kids during the trip. Make small notes to remind you for the next time. It should be fun trip along with adventure for kids. They should not feel extra pressure on them. Use the reminders and notes when going for another camping trip. Be a good observer. Correct the kids as well as yourself by being attentive to them.
It is suggested to take kids advice when planning for such trip. They can remind you of certain things that you may forget like keeping sunglasses or mosquito repellent in your backpack.
Kids have short span. They need to stay involved. They may get bored with you after a while. It will be a trip for them to remember they go along with friends. So why not planning a trip with another family. The kids enjoy and learn together. They won't be bored and you will also get the company of other parents.
Check on the place you are planning to go for hiking in advance. Inform the kids also about it. Check the place is licensed for the purpose. Check on the restrictions in that hiking area.
Inform the kids on what all stuff is required during your trip. Involve them in the backpacking. They must know that you will be using the best backpacking stove for family.
Your attitude must be always positive and responsive towards kids while trekking. While camping they should be your priority. Hence their queries should be answered. Keep patience to make the expedition a pleasant one. It may get risky and unpleasant if children start feeling the pressure. It would be an exciting for them to see and observe even the small insect that may not sound same to you.
Keep your pace same as your kids. They would go slow on the elevations. Do not hurry and bound them in a time frame. Go easy with them and at a slow pace. Cover small distance and pick the location friendly for kids.
Share the backpack load with them. Keep them light weight so that they are not tired and enjoy their trek. Meanwhile you carry the heavy stuff. Give them sleeping bag, water bottle, sunscreen etc. you can carry the stove and tent.
If you are two adults on the trail. Let one adult lead the queue and the other adult be the last so that the kids stay in mid and safe.
Share the tasks with kids while camping so that they get sense of responsibility. Assign them the task and let them take the charge. For example assign them to pick all the trash while wrapping up the tent. They will do the task with much more eagerness than adults.
Children will learn the navigation smoothly on such trips. Teach them to see maps, use of GPS, compass etc during such trips. Teach them the basic before the trip begins. They can develop very good navigation skills after the camping sessions and may enroll further for geo coaching.
Carry the guide, maps and field guides. Kids will love using it as the hiking progress. Give them the literature on the birds, insects, rocks, flowers and nature that you will see whiles your camping trip.
Keep your safe and away from danger. Provide them the whistle so that they can blow if they get separated. Give them flashlight or the headlamps. Keep them equipped with these and teach them to use it at the time of need.
TIPS: Reward your kids after the successful completion of the hiking. This would boost them and encourage them for future trips.